Food Truck Faves: Pina Mexican Eats
Love food trucks? So do we! So much so that OnMilwaukee partnered with Milwaukee World Festival, Inc. to bring MKE Food Truck Fest to Henry Maier Festival Park in July. Find out more here If you're looking for health(ier) comfort food style fare, Clean Cruisine has your number. Just look for the eye-catching bright pink and green truck, where you'll find an ever-changing menu of gluten-free and keto-friendly cuisine.
Thanks to Milwaukee's vibrant Mexican community, there is a great tradition of Mexican food trucks that can be found all over the area.
One of the best – or should I say three of the best – is Piña
Mexican Eats, which usually has a truck in the parking lots at Menards locations in Burlington and Waukesha and a third truck that roams a little more widely.
Run by second-generation Mexican-Americans Sandra and Felipe Ramirez, the trucks have been operating for three years.
But the Ramirez family have restaurant roots that go much deeper.
"We own Los Mariachis in Greenfield, from 2012 to the present and Pineapple Café and Mexican Grill in Oak Creek for seven years," says Sandra Ramirez. "But we closed that March of this year to pursue the three food trucks. My parents started Los Mariachis in Racine in 1991 and had four operating restaurants at one time and I have grown up in the business my whole life."
Type of food: My dad Ramon Madrigal was from Jalisco so primarily all of our food is from west-central Mexico. Our enchiladas are made "estilo casera," home-style cooking, where we take the tortilla dip in oil and cook it on the grill and pour the enchilada sauce on it and grill it all together.
Honestly, the best way to eat it, is with barbacoa, which is shredded beef. It is to die for topped with "queso fresco" fresh cheese.
Most popular menu item(s): The two main top sellers are our taco dorados and the combo plate. The tacos dorados are a traditional street food item where you take the tortilla and fill it with choice of protein or potatoes and fold it shut and deep fry it until it reaches a crispy state. You then slightly open it up and top it off with lettuce, tomato and queso fresco. We give you red and green salsa if you'd like for just a little more bold flavor.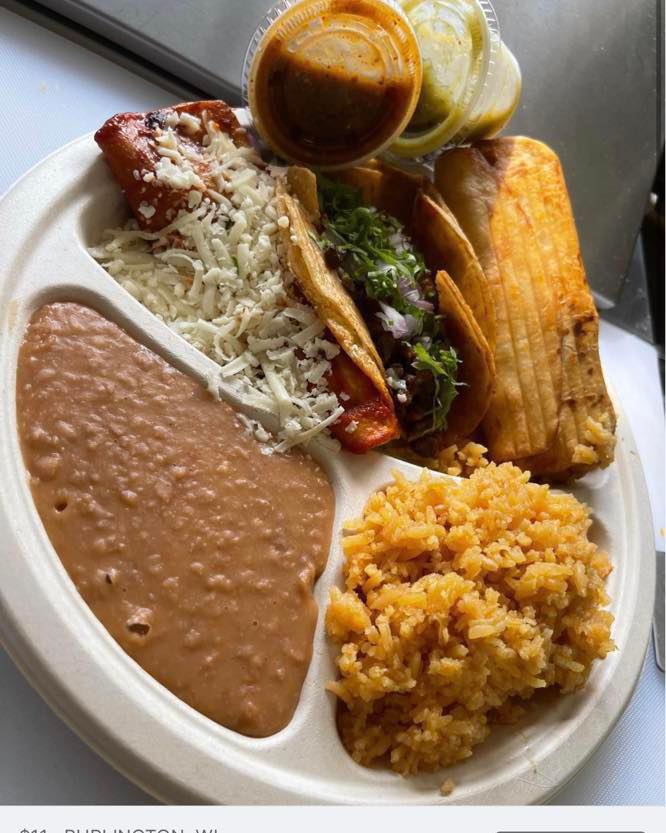 The combo plate is a chicken chimichanga and a cheese enchilada and your choice of taco, which basically means you pick your tortilla corn or flour, choice of protein or vegetarian and your toppings. You can have it traditional, which is cilantro and onion, or American-style with lettuce, tomato and cheese.
Vegetarian/vegan/gluten-free options: It's quite interesting about gluten-free items because traditional Mexican food is typically all gluten-free. A lot of the sauces do not use thickening agents and everything is primarily made with corn.
Everything on our truck from meats to our rice and beans are gluten-free you can eat almost anything as long as it is served on corn tortillas. Tacos, enchiladas, nachos and quesadillas, which upon request (can be) gluten-free.
Where can people find your truck this summer? We usually park in Menards in Waukesha and Burlington while the third truck travels from place to place. You can find our calendar for our trucks on Facebook or our website which is pinamexicaneats.com.
If you could park your truck anywhere for one day where would it be? If I had one place to park in the world it would be on the Las Vegas strip! Just the thought of being near all of the most prestigious chef restaurants in the world is exciting and, hey, who wouldn't love to eat tacos in Sin City, the place that never sleeps! Business would be booming day and night!