Today they're just pets, but In a few days, they'll be show dogs competing at the Lagniappe Classic | Entertainment/Life
Joe likes his routines.
On sunny days, he takes long walks around the neighborhood and sits to relax on his front porch.
On not so pretty days, he stays inside to binge-watch soap operas or listen to classical music.
He's always joined by his brother, Gusto, and friend Ruby.
Joe is also a champion show dog. He just doesn't know it.
………
Terry Mayers said he began showing Italian greyhounds a little over 30 years ago. Since then, he's raised multigenerational champions, with Joe being the most recent, after his father and great-grandfather.
Despite this success, Mayers said the competitions are just a fun hobby for him and his dogs.
"I say all the time, it just so happens that my pets are show dogs," he said. "They don't even know. They don't even care. They still lick their butts."
Joe, Gusto, and Ruby are preparing for the Lagniappe Classic American Kennel Club series of dog shows in early August. They will compete in the conformation event, which Mayers said is similar to a beauty contest.
For this event, Mayers said every parent club is asked by the AKC to submit a written structure of what each breed of dog should look like. This includes shoulder and leg structure, tail length, teeth and weight.
During conformation, he said, the judges don't compare the dogs to each other. Instead, they score them according to how well they conform to the structure and pattern shown in the blueprint that the AKC agreed on.
The AKC has seven breed groups: sporting, hound, toy, nonsporting, working, herding and terrier. Italian greyhounds are a toy breed.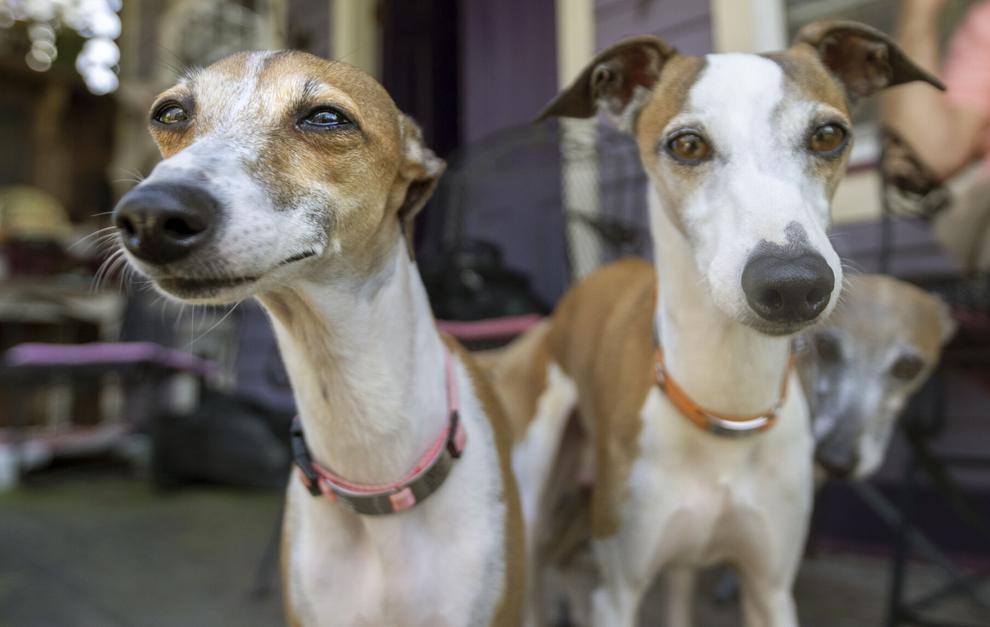 Joe, Gusto and Ruby will compete in the hopes of being named Best of Breed among the toy group, and the winner will then move on to the Best in Show event.
Mayer said he hopes Gusto will receive a "major" — a win in which the dog earns over three points — so that he, too, can add the champion prefix to his name.
To become a champion, a dog must acquire 15 points, including two majors won under different judges and at least one point under a third judge, according to the American Kennel Club.
The more dogs that are entered in the competition, the more points can be awarded for winning.
Mayers said Joe was able to earn his champion designation in just two weeks.
………
When they aren't competing, Mayers said Joe, Gusto and Ruby are the perfect companions. Throughout the day they play together or hang out around the house with him or his husband, Brant-lee Broom.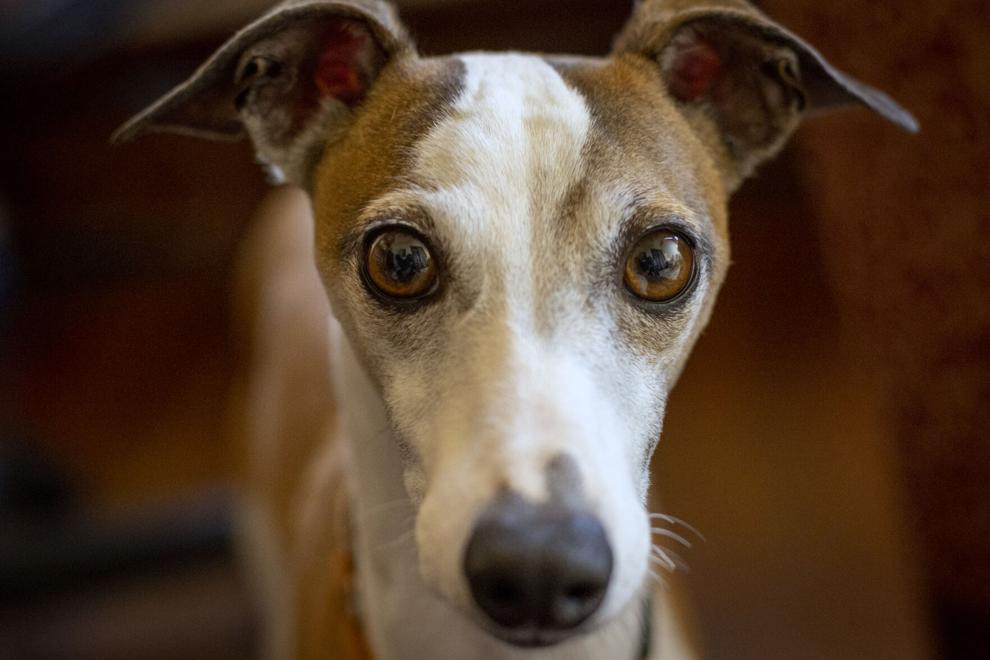 "They're awfully jealous sometimes," he said. "If one gets affection, then the others come running."
The only girl, Ruby usually takes the lead among the group.
"She's all of maybe 10 pounds but she rules the roost here," he said.
Mayers said he likes to refer to his bunch as Velcro dogs. Like other sighthounds — hounds that hunt by speed and sight instead of scent — they are cautious around new people, but after they get to know you, they quickly latch on.
That behavior can be traced back to their arrival in Europe, he said. Italian greyhounds were brought over from the Middle East and Turkey as gifts for aristocrats. They were easily manageable and preferred to sleep under blankets, which made them popular in castles as companion pets.
Mayers said he was drawn to the small breed because they turn heads and are easy to groom.
"They are kind of like little pieces of art lurking around," he said.
………
In the days leading up to the show, the dogs' daily routines won't change much because they are already so easy to maintain. All it takes is a few wipes with a washrag and they're good to go, he said. He did, however, change their feeding plan to help the boys put on some weight.
In the meantime, Joe, Gusto, and Ruby will be watching their soaps and taking walks.
LAGNIAPPE CLASSIC
WHAT: A series of all-breed dog shows hosted by the Metairie Kennel Club on Aug. 4 and 6 and the Louisiana Kennel Club on Aug. 5 and 7
WHEN: 8 am to 5 pm daily.
WHERE: Pontchartrain Center, 4545 Williams Blvd., Kenner
COST: Dog and cat food donations for local shelters accepted in lieu of fees.
NOTES: Only dogs entered in shows allowed; no strollers allowed.
.